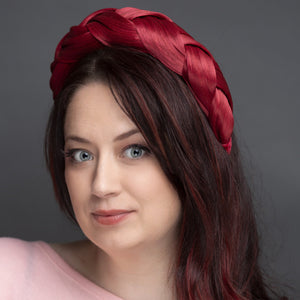 Luxurious garnet red braided silk abaca.
Padded headband lined in velvet for added comfort.
Optional added combs for extra security. 
Easy to style and wear, dressed up or down.
Lifted Millinery headwear is constructed with time honored techniques and fine craftsmanship. All hats are meticulously blocked and sewn by hand without the use of adhesives to attach trims. This ensures a long lasting hat with the ability to be re-trimmed throughout the years
A box for careful storage is included with every purchase.
Please allow three weeks, from date of purchase, for your headband to be handmade and shipped.