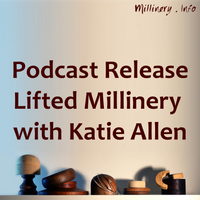 Meet The Milliner
Learn how the milliner behind Lifted, Katie Allen, got her start in millinery, and how her career developed, in the latest podcast by Millinery.Info.
Millinery.Info is your one stop website for all things hats, buyers, retailers, millinery designers, students of millinery and fashion lovers alike. There you will find podcasts, articles, photos, interviews and other resources.
This is a site for hat lovers, by hat lovers, so Katie, the milliner behind Lifted was so pleased to be invited for an interview in their monthly podcast series.
Listen Now
lifted millinery is created to be of the highest quality
Headwear is hand blocked and hand shaped.
Using time honored blocking methods, and an ever expanding knowledge of new and innovative techniques, Lifted headwear is shaped by hand in the studio. This ensures proper attention to the fit and finish of every piece.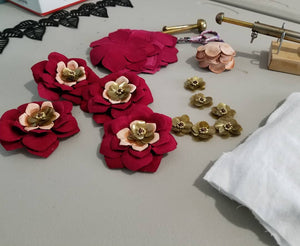 Specialty trimmings are created by hand.
Whether it be flowers or feather mounts, butterflies or bows, custom trimmings can be created from a wide variety of materials. This is a wonderful way to incorporate a matching dress fabric or color coordinate for a cohesive ensemble.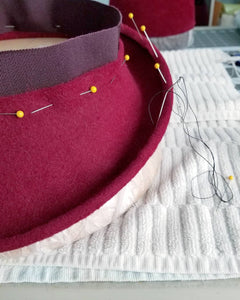 All headwear is hand stitched.
A hallmark of quality millinery is that the hat is assembled and trims are attached by stitching the components in place rather than gluing them. Why is this important? If a hat is constructed using adhesives they can break down over time, discolor, and make the hat difficult to re-trim in the future. Fine millinery is a long term investment and should be able to last and be transformed as your style changes.
What Clients Have To Say About Lifted Millinery
"Received SO many compliments on your beautiful creation.
Definitely the prettiest hat in St. Thomas!" (St. Thomas NYC Easter Service 2019)

Roberta Crumley
"I cannot say how much i loved the crown you designed for me. I got a ton of compliments even one man saying I nailed it all from color combo, season appropriate and understanding of how to put things together." (Keeneland 2019)

Katie Jo Kirkpatrick
"I am so excited about wearing a hat for the first time and you did an amazing job bringing my dream hat to life! After our first conversation I was never worried about the final result because I knew it would be perfect. Thank you so much!" (Destination wedding, Italy 2018)

Amanda Benson